The EMBO workshop on Ubiquitin (Ub) and Ubiquitin-like (Ubl) proteins in health and disease took place at Hotel Croatia Cavtat between 09-13 September 2022 and was organised by Simona Polo, IFOM and University of Milan.
The EMBO Ubiquitin workshop is a biennial meeting and due to COVID-19 pandemic, the meeting was postponed from 2021 to 2022. This time the meeting was focussed on Ub/Ubl networks in different organisms, focusing on the relationships and differences in essential properties, to elucidate the connection and or crosstalk of Ub/Ubl networks in health and disease.
The meeting was attended by Sebastian Glatt, Dominika Kwasna and Keerthiraju E Ravichandran from our group. One oral talk and two posters were presented during the five days meeting. On the 2nd day of the meeting, an oral talk entitled "Molecular details of the eukaryotic Uba4-Urm1 system" was presented by Sebastian and was well received by the audience. Our team was the only one to present the research findings on Urm1, the most ancient Ubl. Both the posters from our group were presented during the first poster session.  Keerthiraju and Dominika presented the poster entitled "E2/E3-independent ubiquitin-like protein conjugation by Urm1 is directly coupled to cysteine persulfidation" and Sebastian presented the poster entitled "Molecular basis for the bifunctional Uba4-Urm1 sulfur relay system in tRNA thiolation and ubiquitin-like conjugation". Overall, the meeting was very beneficial, and our presentations benchmarked our group in the Ubiquitin field.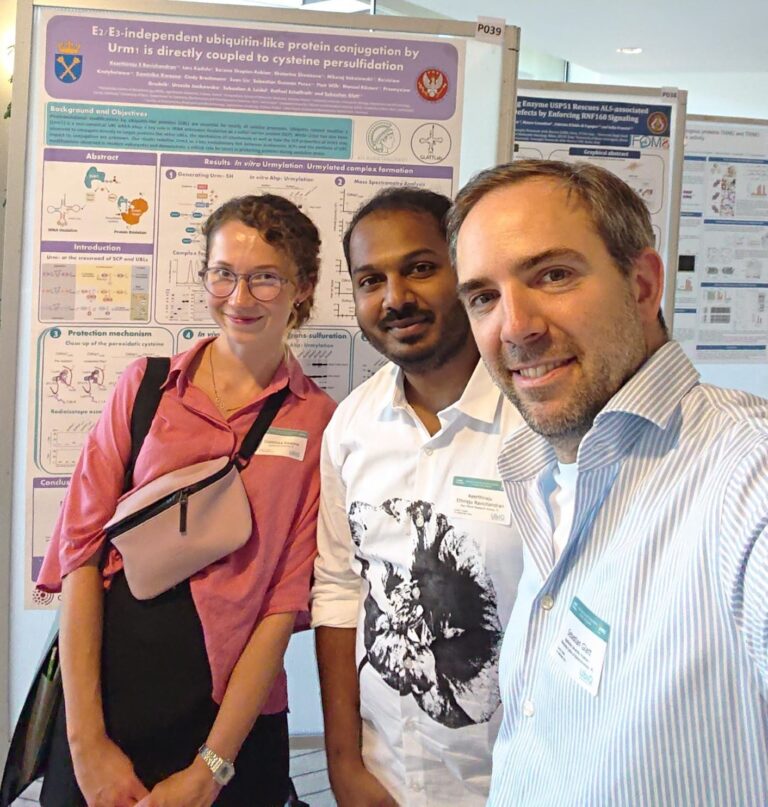 Experienced Ubiquitin researchers such as Brenda Schulman, Kay Hofmann, Yogesh Kulathu, Miratul Muqit, Elah Pick and Sonja Lorenz personally appreciated our work. Brenda Schulman and Kay Hofmann have worked with Urm1 more than a decade ago and were happy to see the function of Urmylation finally being discovered.
On societal front, guided tour of famous Games of Thrones shooting spots in Dubrovnik took place.
Another two more year for the next trip to Croatia!