The LEAPS Meets Life Sciences Conference was organized at the Hotel Hermitage on the Italian Elba Island, between 14-19 May 2023. LEAPS is the League of European Accelerator-based Photon Sources. Its main objective is to enhance the quality and impact of the research conducted at these facilities. By collaborating closely within this framework, the European synchrotron and X-ray free electron laser facilities aim to strengthen their collective capabilities, foster innovation, and optimize the use of these powerful research tools. This collaboration involves sharing best practices, developing joint strategies, and promoting access to the facilities for a diverse range of users, including academic researchers, industrial scientists, and policymakers. This initiative is led by renowned scientists: Caterina Biscari (Chair) Director of the ALBA Synchrotron, Gebhard Schertler (Scientific Chair) Head of the Biology and Chemistry Division at the Paul Scherrer Institute and Kristina Djinovic Carugo (Scientific Vice Chair) Head of EMBL Grenoble.
The purpose of this meeting was to bring together the latest achievements from the Life Sciences with those from the development of radiation sources and instrumentation available at European large facilities. The conference aimed at providing an overview of state-of-the-art research being done at the LEAPS facilities, creating a platform for different communities to interact, and collectively define the needs and challenges for the upcoming decade and to guide the development of a comprehensive European-wide strategy as well as inspiring the next generation of scientists to utilize the remarkable opportunities available within the LEAPS Consortium.
The talks were given by a plethora of experienced researchers tackling different aspects of structural biology and bioimaging as well as Ph.D. students and presented an overview of the cutting-edge research in:
biocrystallography with emphasis on time-resolved studies of the molecular mechanisms behind protein functions
cryo-EM, showing novel methods for studying dynamic processes as well as combating preferred particle orientation
X-ray-based imaging particularly as an emerging tool for the analysis of brain connectomes
computational methods in biology
Our Ph.D. student Paweł Kochanowski was awarded a student grant to attend this conference and presented a poster  'Structural and functional characterization of the DHS-ERK1/2 complex'. Our colleagues from the SOLARIS synchrotron were also present at this meeting and presented the possibilities of the Polish National Cryo-EM Centre and of the beamlines.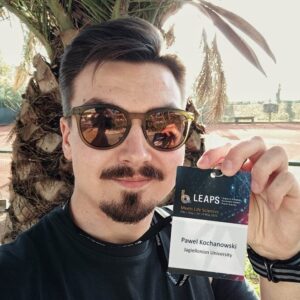 The conference ended with a discussion the purpose of which was to outline the requirements and obstacles ahead of the life sciences sector in order to derive the strategy for the development of European large facilities to meet those needs and push our biological knowledge forward.
We are glad that we were part of this event and we are hoping this is not the last time our members had an opportunity to enjoy beautiful Elba Island!